Tips for merchants
When subscribers attempt to cancel their subscription, Juo gives you an opportunity to learn about their reasons or even win them back! Enable and customize a poll your subscribers will see before they cancel. You can also offer an extra discount to those who cancel because of the price.

Juo comes with six email templates to notify your customers about various events during their subscription. You can modify the email copy, or turn them on and off, in the Settings tab.
In Juo customer portal, your customers can manage their subscriptions by swapping or removing products, cancelling or pausing their subscription, and changing delivery options. In the Settings tab, you can disable any of these options and ask customers to contact your support instead.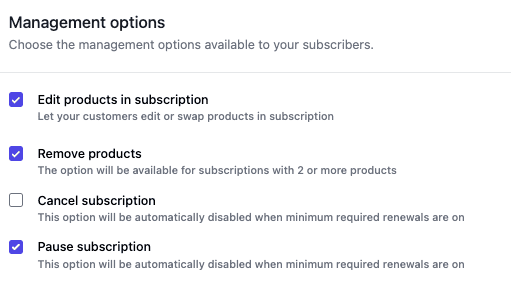 Reward your long-time subscribers with a bigger discount. Go to Subscribe & Save, click Edit on your subscription plan, then edit again on your selling plans, and change the discount from Fixed to Variable.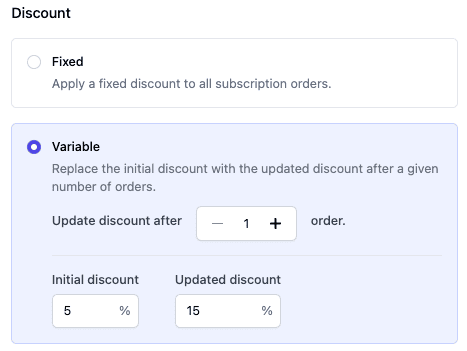 Now, you can set the discount to change after a given number of renewals. Your subscribers will be less likely to cancel their subscription and lose the hard-earned discount!
You can also use it to set a larger discount for the first order to increase conversion.
In the selling plan options, you can set a minimum number of required renewals before customers can cancel their subscription. This helps to avoid situations where customers only subscribe to take advantage of a discount. They will still be able to cancel by contacting your support.
Every time you introduce new products, make sure to add them to a selling plan. Otherwise, customers won't be able to subscribe to them.